Nick is a professional bookbinder. He has taught bookbinding to adults and apprentices for many years and has a wide ranging knowledge and experience of the industry and the history, development and craft skills associated with books.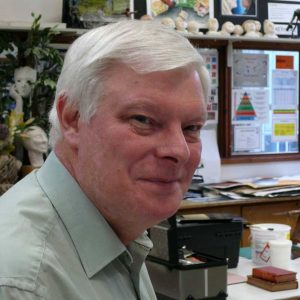 CGLI PPITB 5 year Apprenticeship 1971-76
CGLI 534 Full Tech 1976-78
CGLI 730 Teacher's Certificate in Adult Education 1992-3
Certificate in Education FE 1992-3
National General Certificate in Occupational Safety and Health (NEBOSH) 2003
A1 Assessors Award 2009
Apprentice Victory Press 1971-77
Ebenezer Bayliss 1977-8
Colourgraphic Printers 1978-86
Crusader Print Finishers 1986-90
Earls Print Finishers 1990-03
Self employed bookbinder.
Part-time Lecturer & Trainer Assessor:
Post Press, Bookbinding
Print technology
Printing Ordering procedure
Materials technology
Business studies
Health and Safety
Lecturing/Tutoring in Bookbinding at:-
Rawlins Community College 1979- present
South Notts College, Charnwood Centre, Nottingham 1988-03
Leicester South Fields College 1990-99
Leicester College, 1999-11
Knutston Hall Residential Adult Education College, Northamptonshire
Guest speaker on C&G 7307 course at Coalville Technical College.
Lecturer on Bookbinding and related courses for The Society of Bookbinders
Private courses on Papermaking, Marbling and Materials technology.
Chairman, Midlands Region of The Society of Bookbinders, 2010 -- 15.
The Society of Bookbinders is the UK premier organization promoting the interests of bookbinders.
The styles and materials of book binding in the time of Richard III (late 15th century England) and a lecture to the Midlands Region, Society of Bookbinders.
On-going research. Early Tudor bindings.
Development of a teaching project based on the 8th century St Cuthbert's Gospel.